Tried again, as before couldn't connect. What I did: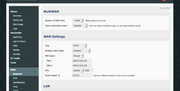 Only way I could connect was by going into the Dnsmasq custom config and uncommenting one of the OpenDNS numbers. But when I do that, can no longer connect with dnscypt-proxy, even though that remains set as before. All DNS then goes to OpenDNS servers-nothing from dnscrypt.eu. I guess it's normal for the Dnsmasq config to take priority. But definitely remember that with earlier version Tomato and Static DNS set to OpenDNS servers, if dnscrypt.eu was down, it would automatically fall back to OpenDNS. Just checked: disabled dnsproxy, and couldn't connect. Nothing to fall back to now.
EDIT:
note, have done several thorough NVRAM erases + restore. Hasn't changed anything. Seeing DNS servers connected by checking with ipleak.net.
EDIT 2:
Maybe need to uncheck
Use internal DNS?
From notes: "Use internal DNS - Allow dnsmasq to be your DNS server on LAN."
Also maybe uncheck
Use received DNS with user-entered DNS?
From notes: "Use received DNS with user-entered DNS - Add DNS servers received from your WAN connection to the static DNS server list (see Network configuration)." Will have to give this one a try.
EDIT 3:
Tried every possible combination of the the above, but nope that wasn't it--although at one point was able to connect, but no idea by way of what DNS servers. ipleak.net was showing "0 servers"
Could there be some problem with that custom config which is responsible for this behavior, or is it just some bug inherent to this firmware? Most of it is copied from what you were using, with a few additional tweaks of my own:
#Only use DNS servers configured here
no-resolv
#Never forward non-routable address requests
bogus-priv
#Never forward requests w/o a .TLD
domain-needed
#Stop ACK and REQ DHCP spam
quiet-dhcp
#Prevent proxy server request spam
dhcp-option=252,"\n"
#Larger cache for dnsmasq
cache-size=5000
#Larger queue for logging
log-async=10
#strict-order (not used)
#OpenDNS servers
#server=208.67.220.220 ----------------->with this uncommented can connect
#server=208.67.222.220
#server=208.67.220.222
#Level3 servers
#server=4.2.2.1
#server=4.2.2.2
#Block Verizon DNS servers
bogus-nxdomain=68.237.161.12
bogus-nxdomain=71.243.0.12
#Block iOS update
#address=/mesu.apple.com/10.255.255.1
In the service of leaving no stone unturned, here are the logs with dnscrypt.eu connecting + Dnsmasq config in place, as shown above:

No rush at all, but curious to know what happens when you try this with one of your Asus flashed.