Mrs H wrote:

NoScript is at 5.1.8.4 so I'll follow your advice and update.
Should I do this in the future - or just stop here?

Same with uBlock - update as updates become available? Right now I'm running 1.16.20 and I do see there is an update available.
Sounds like you are saying it's OK to go ahead and do that?

I don't exactly know what the result is if you don't do the add-on updates - do they break or are just not as effective or worse?

I have many disabled add-ons and I don't know why I just don't delete them.
I also have some mystery ones - many disabled a few not.
If I take a screen shot later on, can you please offer some advice on these (both for Firefox and WF)?

Nothing is labeled Legacy in WF that i can see.
In Firefox the only one listed as legacy is "Check for Updates in Help menu" and that was automatically disabled when I moved up in the Firefox esr world to 60.
--Re. NoScript, as far as I know the 5.1.8.7 will be the last.
--I don't use it, but based on my experience with uMatrix, also by developer gorhill, I see no reason not to update ublock. His uMatrix updates usually add something of value, or don't break anything earlier. As for updating other addons, I basically feel that unless it adds something of real value: "if it ain't broke...." I have several Legacy addons that I prefer in their current state not updated, Form History Control, Ghostery, and Stylish (earlier version 2.1.1 that Mozilla didn't pull because outfit that bought it after later versions released was stealing users' data--replaced now in FF by Stylus.)
But if you do want to try out an update, be certain you have a backup of your profile to restore, if that update does something you don't like. Generally, nothing bad happens if you stay with an addon without updating.
Furthermore, another reason to have a profile backup is that Mozilla is in the process of removing all the older Legacy addons, so if you want to find an older addon, it will soon become impossible. See
https://blog.mozilla.org/addons/2018/08 ... x-add-ons/
That said, Waterfox will in some future version incorporate an archive of all the older ones. No expected date for that however. Can be found now at
https://github.com/JustOff/ca-archive/releases
as an addon, but requires a bit of fiddling to get it working. Haven't tried yet myself.
>>Nothing is labeled Legacy in WF that i can see.
You don't see this?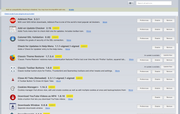 I can look at a screenshot of your addons, but only you know why you installed them in the first place, and as for your disabled WF addons, unless you're 100% sure you'll never want one of them again, I'd keep them around just in case, since they will no longer be available from Mozilla.