Embarrassingly simple solution.
I had a video from someone's smartphone that was in .mp4 format. I wanted to rotate it 90º anticlockwise to save having to get a crick in my neck watching it. I had managed to rotate vids before using QT7 Pro but couldn't remember quite how.
The method is to open the file with QT7 Pro, then go to Window > Show Movie Properties. In the window that opens, click on the 'Visual Settings' tab … but there was no such tab, only an 'Audio Settings' tab. After going round in circles, including converting a copy of the .mp4 file to .mov format and trying the QT7 Pro route again, I posted asking for advice. After that, in Wile E. Coyote mode, I had another go with the .mp4 version of the file.
This is what I was snagged with:
Suddenly both brain cells lit up
and I noticed 'Video Track' ! Clicking on that, I got:

Clicking on the 'Visual Settings' tab provided the necessary options: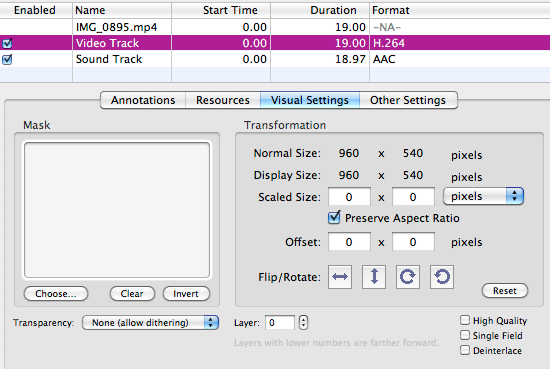 Must be how I did it before, a few years ago. And how very simple!