mc68k wrote:
what about this connected to tv out. it should be amplified by the TV?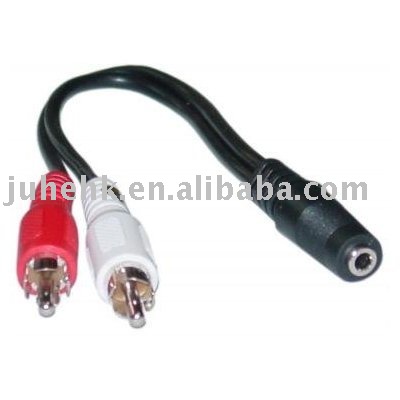 That is a line level signal. It is not amplified by the TV. And those cables are meant for use in attaching such an output jack to an amplifier/AVR.
I also recommend the following settings:
Eco Sensor: OFF
Energy Saver: OFF
Brightness: 50 or greater
Contrast: ~85 (you can calibrate from this or just use whatever, but this joins well with Brightness=50).
HDMI Black Level: NORMAL
Digital Noise Filter: OFF
LED Motion Plus: OFF (you'll get a headache if it's on - I'll explain below)
Picture Options -> Size: Screen Fit (1:1 pixel mapping)
Sharpness: 0 (for non-analog inputs, explained below)
Picture Mode: Standard or Movie. Avoid Dynamic at all costs. See below.
Color Space: Auto (Native oversaturates and overrides source color depth/gamut output)
Gamma: 2 or 3
Dynamic Contrast: OFF
Black Tone: OFF
Motion Lighting: OFF
Color Tone: Cool (for PC/Mac input and game consoles if you prefer computer color gamut), otherwise Standard
LED Motion Plus: This feature makes the LED backlight strobe on and off 60 times per second. It has the potential to reduce motion blur slightly, but you will quickly find that not only does it give you a headache, but it darkens the picture and causes detail loss. This is best left off.
This is not the same as Auto Motion Plus, discussed below
.
Picture Mode - Dynamic: This feature is used in the store to "wow" potential customers. It overrides calibration and selected colorspace/saturation controls on a scene by scene basis. For consistency,
never
use this mode.
Dynamic Contrast: Same as Picture Mode - Dynamic, only this feature controls the contrast.
LED/Auto Motion Plus: Clear adds some "smoothing" to the picture to reduce motion blur. This is equivalant to 3/3 in the Custom menu. Standard adds more smoothing. This is equivalant to 5/5 in the Custom menu. Smooth turns the smoothing effect on full bore and creates a
very
"soap opera camera" effect where the picture seems to glide across the screen during panning like many UK shows broadcast in the U.S. appear to have (or how soap operas appear on CRT TVs, hence the term "soap opera camera"). This is equivalant to 10/10 in the Custom menu.
The above settings list is a guide only and you can disregard if you wish. It is here as a
baseline
reference for the minimum settings required to disable the "feature" where the TV just plain shuts off the picture when the scene gets near pitch darkness. You'll quickly notice how awful that feature is when a scene is very dark, but would normally still have a few visible elements and the screen just shuts off (Babylon 5 has
tons
of these scenes for example) or how it will switch the display off and back on rapidly during fades in video games which have ultra clean signals and no noise at all that might be considered "visible elements". This feature is referred to as "CE Dimming" and is built into all Samsung TVs and is
non-defeatable under normal circumstances even in the service menu
. Only the settings I outlined above regarding Black Tone, HDMI Black Level, and Brightness can defeat this feature when set to the minimum specified values. Note: Brightness below 50 will
allow
the CE Dimming feature to activate regardless of any other settings.
_________________
Official Mac Tech Support Forum Cookie™ (Mint Chocolate Chip)
Guaranteed tasty; Potentially volatile when dipped in WWIII Forum Syrup®
Caution: This cookie bites back.